Rely on the experience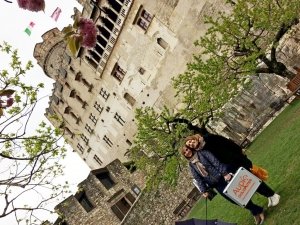 Our company has born from people who have gained several skills in the field of tourism and in the field of systems of radio transmission. This is the reason why we have decided to offer this service by providing our competences and professionalism for anyone who want to valorize his guided tour with an excellent listening experience.
We started our activity in 2018 by offering a service on the whole territory of the Trentino-Alto Adige. Thanks to the positive feedback and the encouragement of our customers and thanks to the high level of quality of our systems, we have decided to offer the rental service  throughout the italian territory, activating logistics by express courier.
Why choosing us
Our systems give the opportunity to improve remarkably the quality of a touristic guide tour or any organized group speaking situation. Here after some good reasons to choose us:
Indispensable in the silent environments where a guided explanation is not allowed (e.g. churches, museums, etc …).
Ideal in situations, conversaly with a high background noise (e.g. near high traffic routes), gain a effectivenss in terms able to make the difference of the pleasureness of a visit especially in the case of large groups or factory tours.
Free to move around during the explanation focusing attention on attractions.
Maximum exploitation of the time explanation moving from one site to another.
Possibility of simultaneous translation in multiple languages by meas of an interpreter thanks to the availability of a lot independent radio channels.
Signal coverage up to 200 meters in open space.
The availability of many radio channels makes our audio system ideal also for business conferences and meetings.
Delivery and collection in the place indicated by the customer.