Professional Audio Tour Guide System
Our audio tour systems are practical and safe to use. They guarantee a high audio quality of radio transmission.
They are certified according to the European regulations of civil applications.
We have also been contacted by large companies to help during factory tours in the industrial plants for marketing purposes. This is particularly fruitful where spaces are small and background noise is high enough to condition the explanation of the speaker.
Sports and Free Time
Give real-time suggestions and receive feedback during a group training. Typical examples are ski schools, climbing, bike tours, nightly Nordic walking and guided, outdoor walking. One can enrichen group experience at all times.
Business Events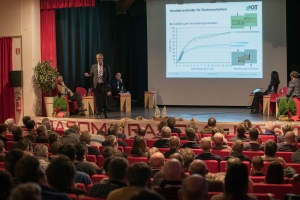 For clear and effective communication at business events and visits to production plants (factory tours).
The Audio Dolomites systems find another fruitful application in the context of meetings and conferences, where the presence of an interpreter is required. In these situations, a professional translator, in a translation booth, will perform the simultaneous translation of the speaker's intervention by transmitting it via radio to the users. Thanks to different channels the users have the chance to choose between the original speaker or interpreter.
In 2019 Audio Dolomites were technical partners for an important forum organized by the company Rasom Wood Technology S.r.l. of Pozza di Fassa, with over 300 guests in the auditorium.
For an Unforgettable Experience


Our company wishes to offer the opportunity of complete immersion in these sensations by listening, enriching and enjoying the culture and beauty of points of interest with the narration of a wise tourist guide.
Being able to focus your attention on the attractions and not on the speaker's lips is a determining factor for the success and enjoyment of your visit.
Enjoy the experience of a cultural and touristic visit without missing a word!